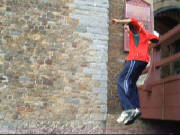 As you land make look at the ground infront of you to make sure that there is no broken glass, because that could hurt quite a bit if you rolled on it.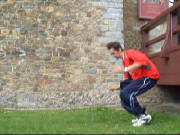 Bring your hands towards the ground to ready yourself for the roll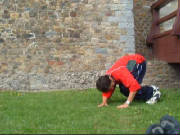 This may look like i'm praying but in actual fact i am mid-roll. At this point I have my hands on the floor and plan to roll over my shoulder.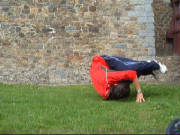 In this picture I am rolling over my shoulder and will diagonaly accross my back onto my opposite hip this is to prevent any part of my spine from being damaged.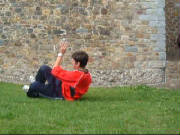 The diagonal movement will bring you to land almost sideways and will ensure none of your protruding hip bones get snagged on the way (a common problem for some). Coming up sideways means that the fatty tissue on your arse fully protect this area.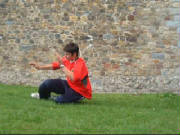 Feet are positioned so that once the roll is complete, you are ready to exit the roll and continue running in one swift movement.